You are viewing the article 6 ways to self-test speed, RAM errors on laptops and computers you should know  at Lassho.edu.vn you can quickly access the necessary information in the table of contents of the article below.
In today's fast-paced digital world, having a reliable and efficient laptop or computer is essential for various tasks and activities. However, as time goes on, these devices may start to experience slowdowns or errors that hinder their performance. One common cause of such issues can be attributed to problems with the device's speed and Random Access Memory (RAM). Luckily, there are several ways to self-test these components, allowing you to troubleshoot and identify any potential problems. In this article, we will explore six effective methods that you should know to self-test the speed and RAM of your laptops and computers. By following these techniques, you can ensure your device continues to function optimally, enabling you to seamlessly carry out your daily tasks without any hindrances.
RAM is a very important part of laptops and computers. Over time and the process of using RAM will be somewhat worn out in terms of durability as well as performance. Today, lassho.edu.vn would like to share with you some simple ways to check RAM at home!
Why should check RAM, test RAM errors?
RAM errors cause your computer to operate more slowly, sometimes unexpected power off occurs. So checking RAM, testing RAM errors is something that should be done every time your computer shows the above symptoms.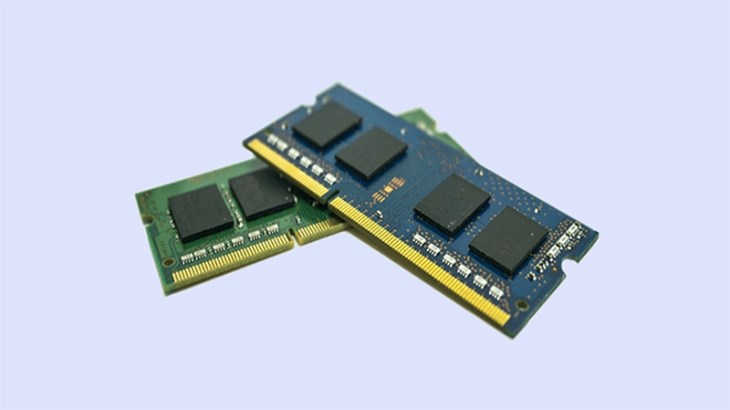 Check RAM to quickly detect errors
Notes to know before testing RAM
Before testing RAM, users should note the following points:
Turning off the computer before testing the RAM will help avoid compatibility issues and RAM damage.

When disassembling RAM, check carefully and carefully to avoid damaging other components on the motherboard.

Use the hardware diagnostic tool to check the RAM. In addition, users can also use RAM testing software to determine the amount of active RAM and detect RAM errors.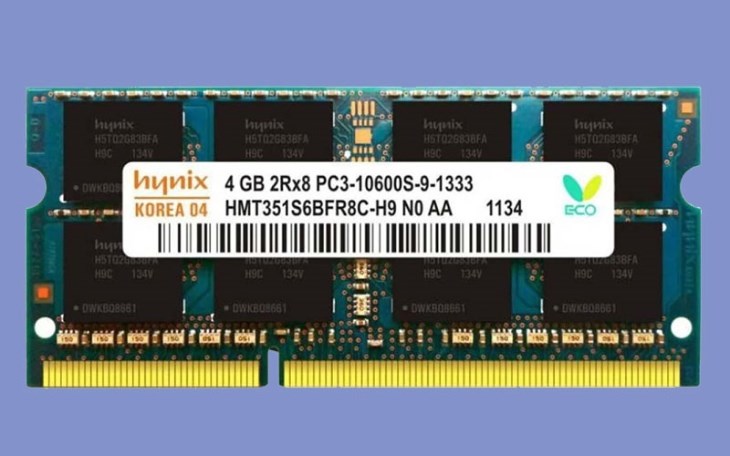 You should check the compatibility of the RAM stick with the machine specifications
6 ways to check RAM on Windows computers
Check RAM errors with the Windows Memory Diagnostic tool
Step 1: Start the Windows Memory Diagnostic RAM test tool.
Method 1 : You press the Windows + R key combination (Windows is the key with the window icon) > Type Run to open the dialog box > Then, enter the command mdsched.exe and press Enter .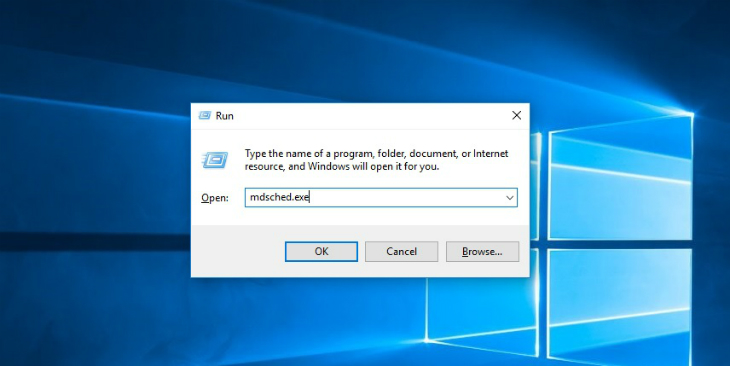 You type the command mdsched.exe into the Run dialog box
Method 2 : Open Control Panel , switch to Large Icon mode and find administrative tools .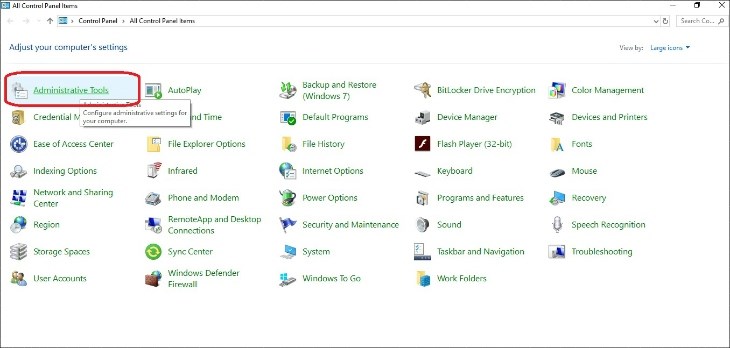 You select administrative tools on the dialog box
After selecting the adminitrative tools , a new window will appear with a lot of tools in Windows, but we only need the RAM test function on that tool called Windows Memory Diagnostic .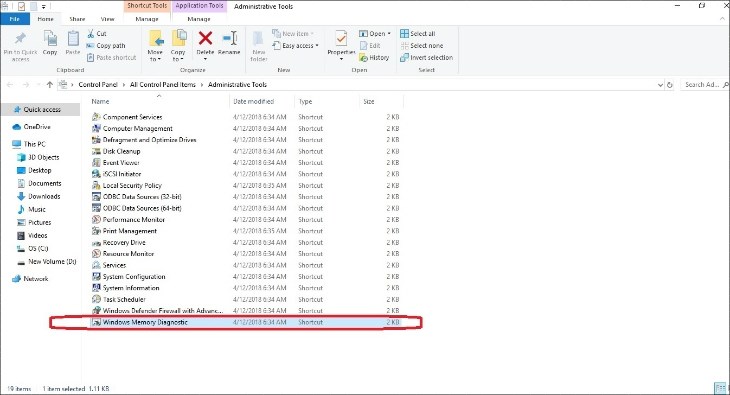 Test RAM with Windows Memory Diagnostic
Step 2: Select the item Restart now and check for problems (recommended) to restart the computer and start the RAM testing process.

Select Restart now and check for problems in the Windows Memory Diagnostic dialog box
At this point, your computer will restart and the Windows Memory Diagnostic Tool will be activated and start checking for RAM errors. You need to wait a while for the program to work.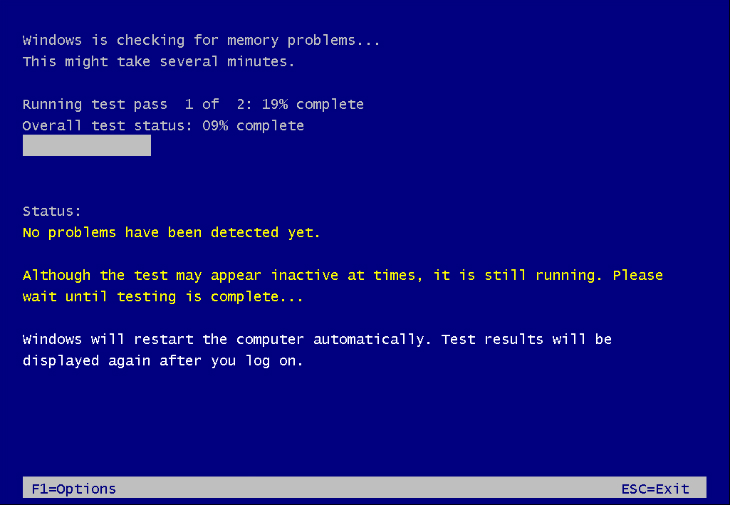 The interface of the machine reboots when you select
After running the program, the computer will restart again and go to the Desktop screen. If you want to take a closer look at the messages, you can open Windows Logs to see.
To view Windows Logs , press the Windows key (window key) > Enter the keyword Event Viewer > Then select Event Viewer .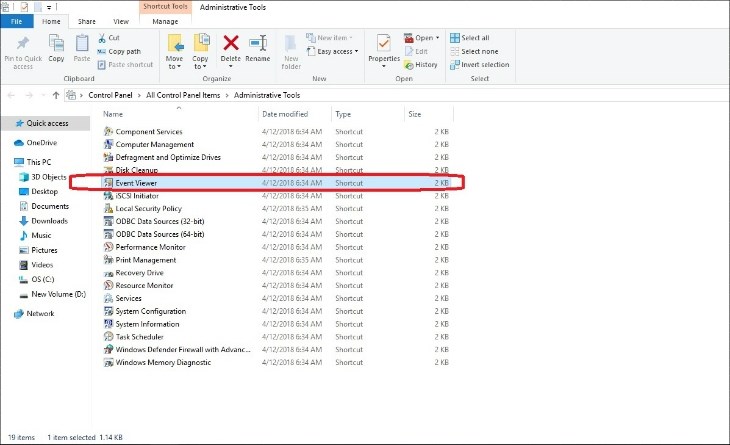 You can select Event Viewer to view Windows Logs
After opening Event Viewer , click on Windows Logs , select System , select Find . You enter the keyword Windows Memory Diagnostic in the Find what box and click Find next to search.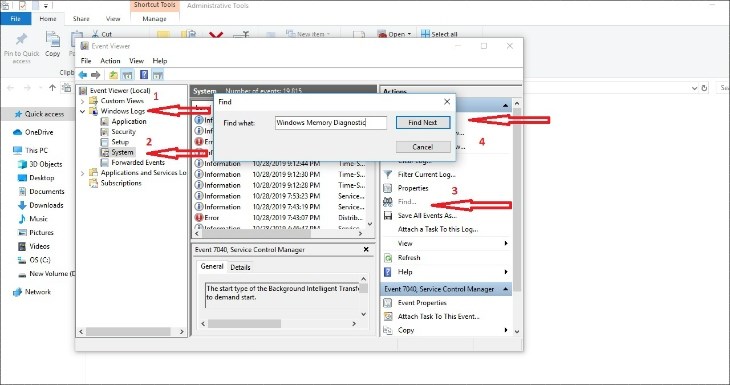 You can use Find to search faster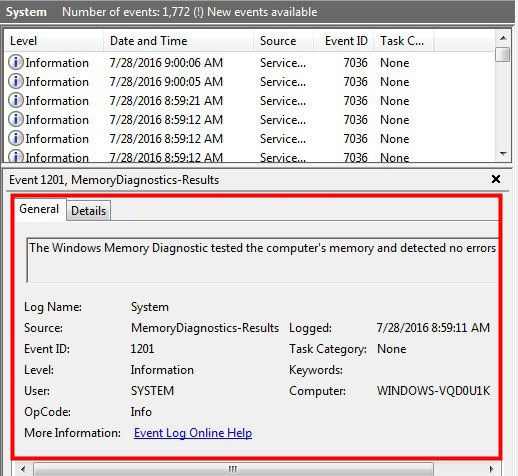 Message not detected RAM errors (detected no errors) after scanning
Use MEMTEST86 software to test RAM
Step 1: Download Memtest86, the software has 2 versions, free and paid , but you only need to download the free part.
Step 2: Create USB Boot, because the user's computer cannot access Windows, you need to use another device, download Memtest86 and then transfer Memtest86 to USB (called USB Boot).
To create a USB Boot, open the downloaded Memtest86 > Click I Agree as shown.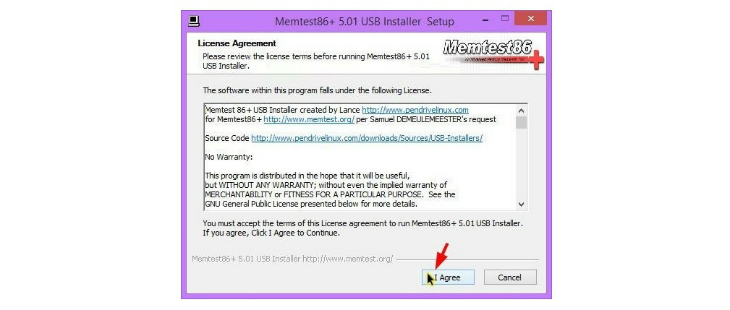 Click "I Argee" to agree to the terms of Memtest86
At the Select your USB Flash Drive section, select the USB drive and click Create to create the USB bootable .

You choose the drive to install Memtest86
After the program runs, you have a bootable USB to test RAM .
Step 3: Check RAM with Memtest86
After you have a USB boot capable of testing RAM, now proceed to test RAM. Next, plug the USB into the computer to be tested and select the boot mode from the USB drive.
Step 4: Memtest86 will now test the RAM on the user device.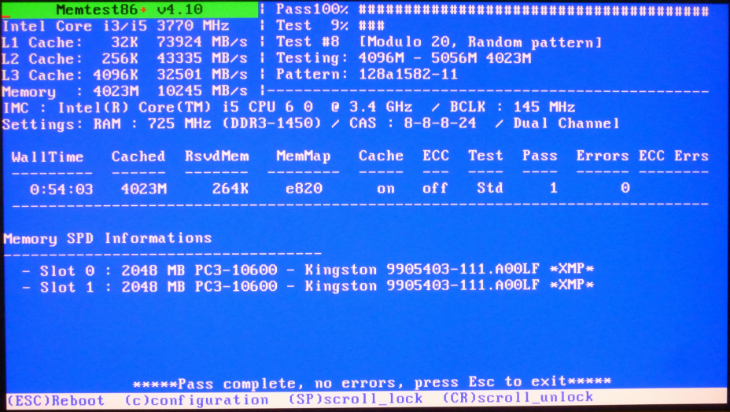 RAM test interface using Memtest86
If the results do not detect any errors, it means that the RAM memory on the system is still operating stably. On the contrary, if there is an error, it is most likely because the RAM on your computer has a problem.
Check through Computer Properties
Step 1 : Right-click the This PC icon on the desktop or in File Explorer.
Step 2 : Select Properties in the menu that appears.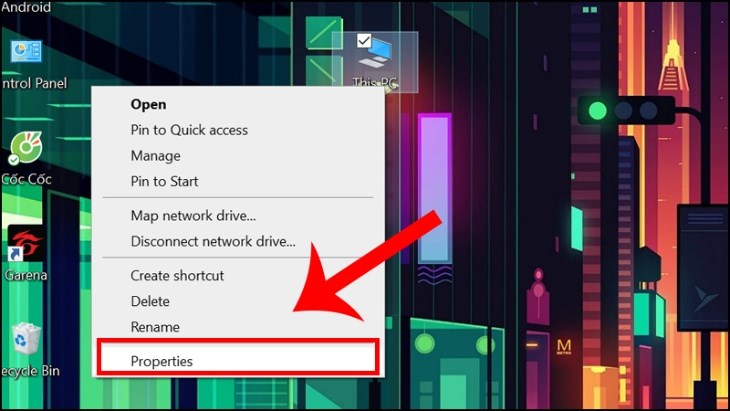 Properties in This PC
Step 3 : Information about your RAM capacity will be displayed in the "System" section of the newly opened window.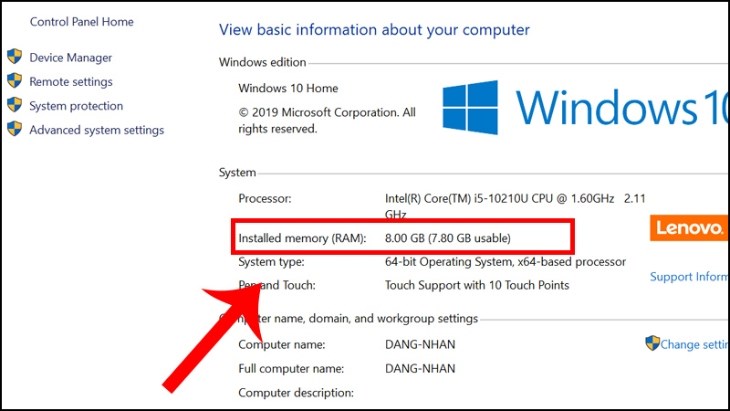 Information panel interface of the machine
Check RAM parameters with dxdiag
Step 1 : Press the Windows + R key combination on the keyboard.
Step 2 : In the Run dialog box, type dxdiag and click OK .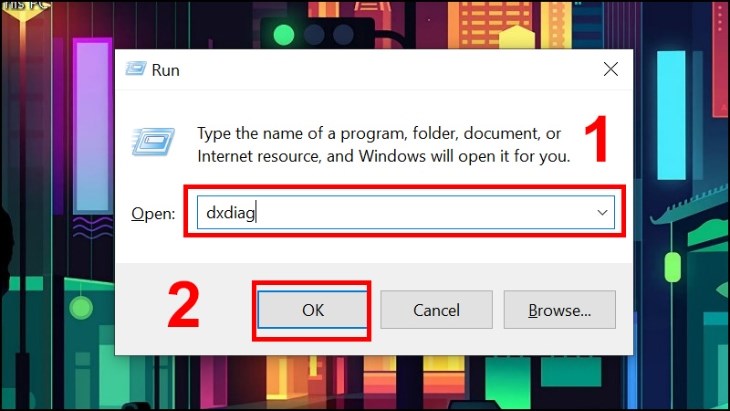 dxdiag command to open DirectX Diagnostic Tool
Step 4 : In the DirectX Diagnostic Tool window, go to the System tab .
Step 5 : Find the System Information section and see the RAM information displayed below.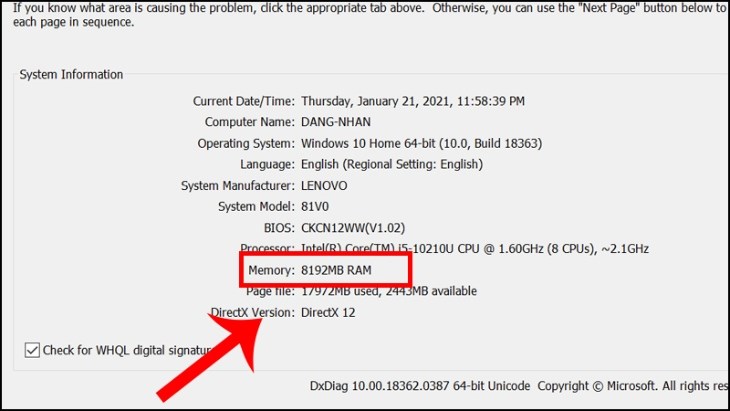 Display location of RAM memory parameters
Check parameters with CPU-Z
Step 1 : Download and install CPU-Z software from the link HERE .
Step 2 : Open CPU-Z software.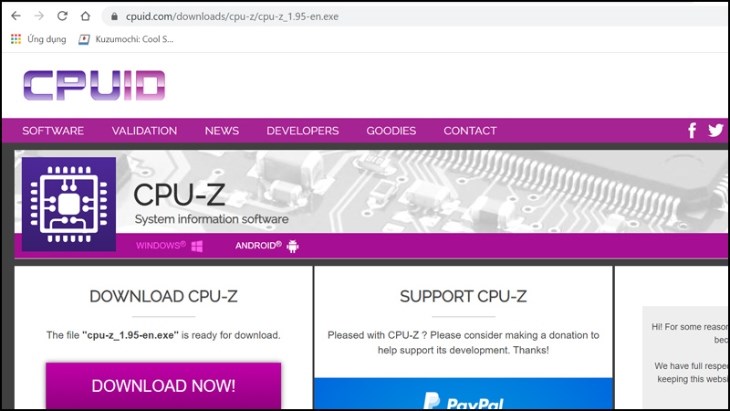 Download and open CPU-Z software
Step 3 : Move to the Memory tab .
Step 4 : Information about the computer's RAM will be displayed here.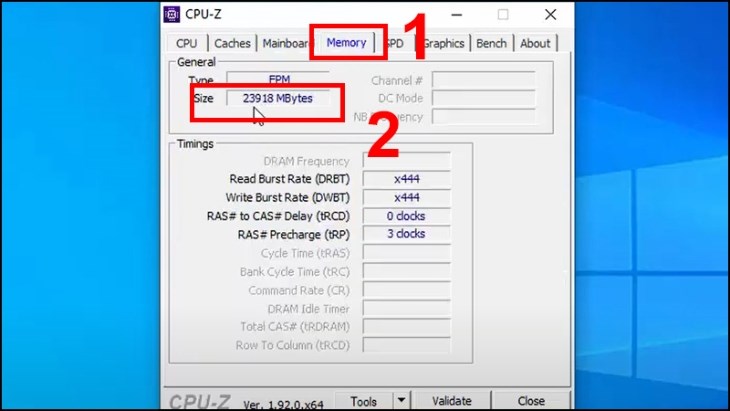 Memory tab interface
Check RAM parameters and speed through Task Manager
Step 1 : Press Windows + S key combination , type Task Manager and press Enter .
Step 2 : Select the Performance tab , then select Memory . To check the speed of RAM, see the section RAM frequency . If this speed is lower than the manufacturer's published specifications, it is possible that your RAM is having problems.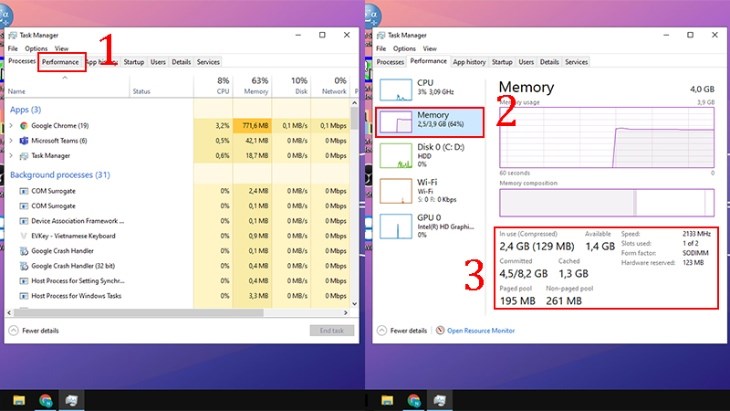 Steps to work with Task Manager
What to do when detecting a problem with RAM?
When you detect a problem with RAM, you should take the following steps to solve the problem:
Check the connection of the RAM to the motherboard to make sure that the devices are plugged in securely.

If the connection still doesn't work, you can try to disassemble the RAM again and make sure that the memory is plugged into its correct place.

Use RAM testing software to find out RAM problems.

Send the computer to the manufacturer or a repair technician for inspection.

If your RAM is not functional or repairable, it should be replaced with compatible memory.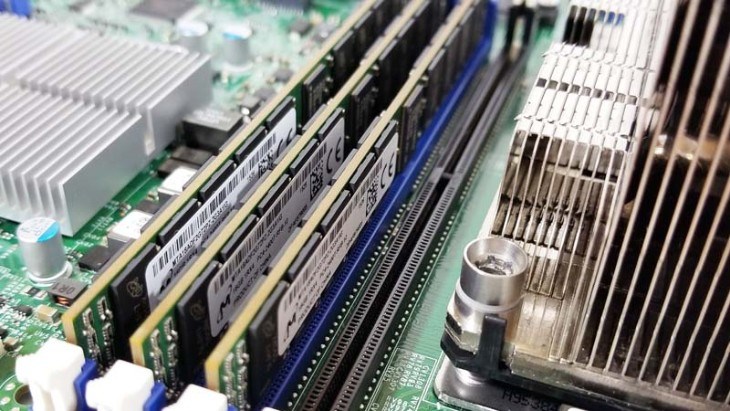 You should bring the device to a repair center if you do not know how to operate
Above are some ways you can check your computer's RAM. If you find an error or problem, quickly fix it to help the machine work in the best way.
In conclusion, being able to self-test the speed and RAM errors on laptops and computers is crucial for maintaining optimal performance and diagnosing potential issues. By following the six methods outlined in this article, individuals can easily assess the speed and RAM status of their devices without the need for professional assistance. These methods include running benchmark tests, using built-in diagnostic tools, monitoring performance metrics, examining error logs, checking for software conflicts, and physically inspecting hardware components. By regularly performing these self-tests, users can identify any speed or RAM errors early on and take appropriate actions to resolve them, such as upgrading hardware or troubleshooting software problems. Ultimately, understanding and being able to self-test the speed and RAM errors on laptops and computers empowers individuals to take control of their devices' performance and ensure a seamless computing experience.
Thank you for reading this post 6 ways to self-test speed, RAM errors on laptops and computers you should know at Lassho.edu.vn You can comment, see more related articles below and hope to help you with interesting information.
Related Search:
1. How to self-test speed on laptops and computers
2. Importance of self-testing RAM errors on laptops and computers
3. Effective ways to self-test speed and RAM errors on laptops and computers
4. Step-by-step guide to self-testing speed and RAM errors on laptops and computers
5. Common signs of speed and RAM errors on laptops and computers
6. Tools and software for self-testing speed and RAM errors on laptops and computers
7. Best practices for self-testing speed and RAM errors on laptops and computers
8. Troubleshooting tips for identifying and fixing speed and RAM errors on laptops and computers
9. How to interpret the results of a self-test for speed and RAM errors on laptops and computers
10. Recommendations for regular self-testing to prevent speed and RAM errors on laptops and computers